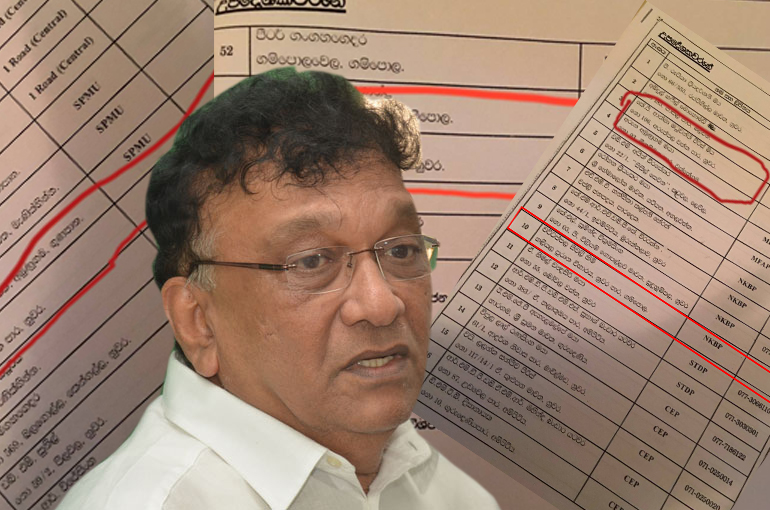 There was much talk in the recent past about the Minister of Higher Education and Highways Lakshman Kiriella recruiting 65 consultants to his ministry and the Minister admitted that each of them was paid by the Ministry of Highways a monthly allowance of Rs 25,000 and a monthly transport allowance of Rs 40,000.
WE have received proof that the Minister is incurring a colossal loss to the Ministry of Highways misleading the Parliament as well as the people in the country.
It is reported that those consultants who are given the transport allowances are also given vehicles from the Ministry of Highways. Our investigations have shown that a large number of the so-called consultants who receive the transport allowance also have been given vehicles.
Some of them are:
1. E.M.G.B. Ehalamalpe
2. A. Nimal Chandrasiri
3. Vipula Ranasinghe
4. Y. LalanthaSanjeewa
5. D.M.T.B. Dissanayaka
6. K.L.Suminda Wickremesinghe
7. T.M. Elahi Abdeen
8. Thilak Ranasinghe
9. S.G. Wijeratna
10. Nilantha Hapuarachchi
11. Samantha Arunakumara
12. Asela amarasena
13. Jayaweera Bandara
14. M. Tikiri Banda Kulasuriya
15. P.B. Nugaliyadda
16. Peter Gangahagenera
Each of them has been given a RDA cab and children or wives of officials in Minister's staff have been included in the Ministry's consulting council. They too are entitled for the travelling allowances say reports.